I just finished the first annual #JX on Twitter, a week where I made a big announcement regarding Jenito every day of the week. To close things out on Friday I announced that the next big title from Jenito would be a game called Bluebeard's Gambit. So. . . what is Bluebeard's Gambit and what will it feel like?
THE CONCEPT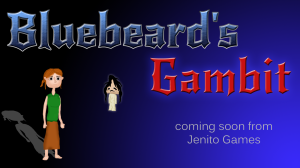 The game is based off of a more obscure fairy tale popularly known as Bluebeard's Castle. In short, a young girl marries a hermit of a guy who lives in a huge castle and sports a big, blue beard. He's had many wives before, and they all just vanish after a short period of time. But his wealth, and family pressure, woo her into an ill advised marriage. Upon arriving at the castle as his new wife, Bluebeard gives her keys to every room in the complex but charges her to stay out of the cellar. He then leaves on a business trip.
Of course, the first thing she does is promptly makes her way to the cellar, where she discovers the bodies of Bluebeard's previous wives hanging from the ceiling. Panic ensues. Long story short, Bluebeard returns, gets angry, and is killed by one of the young maiden's brothers who come to her rescue.
Don't worry, I didn't just spoil the game, because Bluebeard's Gambit is merely based around the fairy tale. While it will have many similarities, it will also have huge differences and a much larger cast of characters, with each one representing different virtues and vices.
THE GAME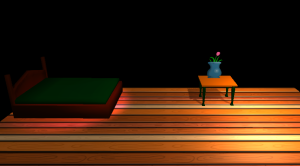 As for the story, Bluebeard's Gambit will be waaaayyyy more involved than the fairy tale and will focus on the issues of domestic abuse and religious control. It will feature a strong female lead (non-sexualized, too!) who becomes increasingly more confident as the game unfolds – if you play the right way! It will feature multiple endings and will be presented as a 2.5D adventure game, but will dispense with a point-and-click interface for something which feels a bit more adventurous and action oriented. There will be puzzles, quests, and maybe even some fights.
The game will be built using Unity3D and will be multiplatform. I plan to begin production some time around November of this year, and can't wait to share the first trailer with everyone!
Oh, and yes, in case you hadn't already figured, the game will be darker and more mature than anything I've made up to this point, but I'm excited about this and believe the game will be both tasteful and challenging. I can't wait!