2015 was a long year for me, and – sadly – a fairly unproductive one whereas game development was concerned. I didn't really achieve anything new, per se, outside of Super Mega Bob's release on Steam. Don't get me wrong. . . that was awesome! But as a game developer, I just don't feel productive if I'm not, you know, making a new game! 
I doubt many will read any of this, but I wanted to put it out there to refer folks to if anyone asks the "so what are you up to?" / "why are you working on this new stuff?" questions.
The State of RealmStory
As many of you know, my big push last year was a new, open world 2D platformer called "RealmStory." I have a good, solid foundation for RealmStory that is actually pretty darn impressive. Conversely, it is still just the foundation. RealmStory is a huuuuuge project. It includes programming tons of random generators and creating lots of content for the game to draw from to create a truly unique user experience each time you play. It's doable, but it's going to take a lot of work. I still intend on finishing RealmStory, but the when question is getting a little more complicated these days.
The biggest factor in 2016 will be this: I have to start looking for a new job here soon. I've been blessed to teach for the last few years, and it's been great, but sadly I won't be able to continue where I'm at in the 2016/17 year. So come late Spring I could be spending an awful lot of time interviewing, packing, moving, and getting acclimated to a new position. Kind of exciting, but also kind of a bummer for my game development schedule. Of course, I'd love to make some awesome game in the next two months and become the next Markus Persson of gaming, but ya' know, probably shouldn't bet my future on it at this point.
So, after a lot of consideration, I think 2016 would be better spent on projects that are manageable and doable for the schedule I'm looking at. Which brings me to. . .
Coffea Grind: The Underground Coffee Simulator
I've been knocking around an idea in my head for a loong time now. The basic concept is playing as an underground coffee grower in a dystopian future where coffee has been outlawed because of its "potentially harmful side effects." More than a game, it's also kind of a commentary on some governments' obsession with outlawing really dumb things and feeling the need to control people. That's the deep side of the game. Mostly, though, it'll just be a lot of sandbox, co-op fun where you fight to survive and build your coffee empire. As much as I wanted to call it Breaking Beans, I figured Coffea Grind was a little less copyright infringementy.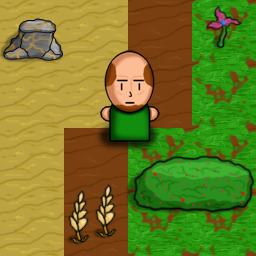 Is he man or is he puppet? Ah, such existential questions of our existence!
I'm actually very excited about Coffea Grind – it has the potential to be really fun, very easy to play, and a manageable project that I can bring a long way in the next three months or so. Much more attainable than the six month minimum that RealmStory needs to even begin looking like a finished project. I'll keep you posted as we move into the new year, but if anyone wonders what I'm up to and why. . . well, there you have it!