IMPORTANT UPDATE: I want to apologize for misspeaking in the original blog. With some help from a fellow dev on Twitter I was able to determine that SMB was not directly targeted. It simply appeared that way because it was one of a very few files that ended up getting encrypted. It's still a major setback for SMB, and someone somewhere still created the Trojan that did it, but it was not a personal attack against the game. I apologize for misspeaking. I have left my original blog below along with this statement clarifying what happened.
As I write this, I still find myself having a hard time believing it. This afternoon I was hacked. Not by chance, not for some random reason. No, I was maliciously, intentionally hacked. And whoever is responsible for this has encrypted all of the code for Super Mega Bob.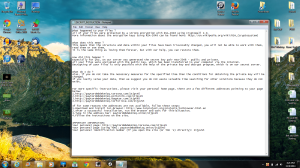 The message left on my computer after the files were encrypted.
I know – it looks like something from a movie, right? It sounds like something from a movie! But it's one of the many realities of being a developer. Sometimes, for reasons that are difficult to explain, someone feels the compulsion to target and destroy someone's work. Perhaps because they hope for financial gain. Maybe it's because they find a thrill from the challenge. Any way you cut the cake, it's evil. A reminder that all of us carry a terribly wicked nature capable of doing some very nasty things.
Yes – this really hurts my work on Super Mega Bob. It will take some time to recover. But I'm not giving up. I'm not quitting game development. And I am dedicated to doing what I can to recover from this blow to the project.
Finally, a message to whoever did this. I am not intimidated by your attack. I am not scared. And I will not bend to your demands. But most of all I want you to know this one thing: I forgive you. God forgives you. You are a human being, made in His image. He loves you desperately and wants only to redeem you to Himself. I, too, am His creation. I extend to you the hand of friendship, take my hat off to your truly exemplary hacking accomplishment, and hope only that you will look to Christ and His love and use your amazing technical talents for His glory. If you're looking for hate or anger, you will not find it here.
As a believer, I know that God will use this only for good and for His plan for my life. So, honestly, I'm excited about how He will use this. There is no sense moping about it. I will be updating people on my continued progress through Twitter. We'll do what we can and take Super Mega Bob from this new development!